Governor's Mansion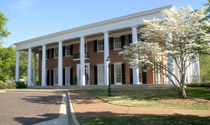 Visit the Governor's Mansion Website
The Governor's Mansion is the official home of Georgia's 81st Governor, Sonny Perdue, and his wife, Mary. The Mansion, a three floor, 30-room, Greek Revival style home built in 1967, stands on approximately 18 acres in northeast Atlanta. It was designed by Georgia architect Thomas Bradbury and officially opened on January 1, 1968.
Lester Maddox was the first governor to live there, followed by Jimmy Carter, George Busbee, Joe Frank Harris, Zell Miller, Roy Barnes, and now, Sonny Perdue.
The house covers 24,000 square feet and has a total of 30 Doric columns around the porches. These columns are made from California redwoods and are each 24 feet high. They are hollowed out and specially treated on the inside to handle water drainage from the roof.
All of the rooms on the first floor are used for official entertaining. The second floor contains the Perdue's private living quarters. All of the furnishings in the house are considered to be museum quality and make up one of the finest Federal Period collections in the United States. These furnishings were acquired by a 70-member fine arts committee while the Mansion was being constructed. It is a permanent collection and belongs to the state of Georgia. It does not change from one administration to the next.
The first Executive Mansion (1838-1868) was located in Milledgeville and is still open today for public tours. The state capital was moved from Milledgeville to Atlanta in 1868. Two years later, the state purchased the John James residence at the corner of Peachtree and Cain streets for the Governor's residence. Seventeen governors occupied this large Victorian home until it was demolished in 1923. The Henry Grady hotel was later built on that site. In 1925, the state acquired the large granite estate of Edwin Ansley, located at The Prado in Ansley Park. That estate housed 11 governors before it was vacated and demolished in 1968.
The current Governor's Mansion property once belonged to Robert Maddox (no relation to Lester Maddox), who owned a large English Tudor home on the site. A fire destroyed a large part of the house and Mr. Maddox sold the property to the state. The remainder of the home was demolished and the current Governor's Mansion was built on the site.
The Governor's Mansion is located at 391 West Paces Ferry Rd. NW. Public tours are conducted throughout the year on Tuesdays, Wednesdays and Thursdays between 10:00 a.m. and 11:30 a.m. Reservations are needed for groups of 10 or more.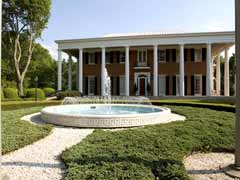 Download
High Quality
Low Quality

Thumbnails