Photo Gallery
Below is a gallery of the First Lady's official press photographs.
If you have recently had a photograph taken with the First Lady by the Governor's photographer or if you would like to see photographs from the First Lady's recent events, click on the link below:
The First Lady's Photo Galleries
Following the above link takes you to galleries that are hosted by a private, third-party vendor.   You may view, download and print any photograph contained in these galleries free of charge.  As an additional service, you may also purchase a professionally developed print that will be shipped to you by the private, third-party vendor.  Please note, however, that the Office of the Governor is not a party to, and does not receive any proceeds from, the purchase of any print(s).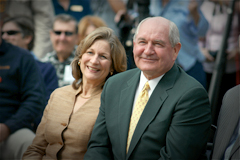 Download
High Quality
Low Quality

Thumbnails