Summit Info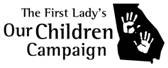 Champion Our Children Month 2006
As Georgia's First Lady, Mrs. Perdue's mission is to increase community involvement with our abused and neglected children. This September, every community in Georgia will celebrate Champion Our Children Month. Please join Mrs. Perdue and many others in observing this special month by volunteering in your own community. Donate daily necessities for local foster children, mentor a child or even consider becoming a foster parent.
If you are interested in learning more about how to volunteer in your community, click on the link below for the volunteer opportunities in your area, or learn how to organize a volunteer activity by clicking on the link "How to host a volunteer activity."
Volunteer this September to make a difference in the life of a child.
September 6, 2006 Atlanta
September 7, 2006 Warner Robins
September 8, 2006 McDonough / Columbus
September 11, 2006 Waycross / Dublin
September 13, 2006 Marietta
September 14, 2006 Albany
September 18, 2006 Savannah
September 20, 2006 Cumming
September 21, 2006 Augusta / Toccoa
September 25, 2006 Rome / Dalton
September 27, 2006 Athens

How to Host a Volunteer Activity
(Word Document)

Volunteer Opportunity Within Your Community
(Excel Document)